Our family congregates in the family room most nights after dinner is over - homework begins, and laptops and tablets are open. My youngest has started getting into football, so Monday Night Football was on this week.
If you don't live under a rock, you've seen one of the scariest scenes I've ever watched on television as Damar Hamlin collapses after a tackle, goes into cardiac arrest, is resuscitated, and is taken out of the stadium in an ambulance.
As the events unfolded, we saw teammates come around Damar - come together, kneel, cry, pray, hold hands, hug, and be for and with each other as they pulled for their work colleagues, friend, and teammate.
Watching that outpouring of unfiltered and authentic emotion stirred up much of the same in us. How could you not be on the same page with all those coaches and players?
The broadcasters had the most challenging job of the night. There is no plan for how you keep talking about a situation like this in the proper context, with the appropriate reverence, all while being "on air." They were as shocked as we were going through the same roller coaster.
I don't know how to say this well, so please give me some license as I witnessed something that I have not seen on TV – live or otherwise in a long time. Genuine prayer. The perfect thing to do in a time when you need hope and faith and something more significant than any of us to help in the outcome.
#PrayersforDamar started trending on Twitter. The broadcasters could only keep saying "our thoughts and prayers" to his family and teammates. Their regular confidence and pithy wordplay between them are meaningless in all of this. What else could you do?
On the fifth round of going back and forth and repeating their sentiment and sorrow, ESPN host of NFL Live, Dan Orlovsky, decided to do what everyone was talking about. Pray.
Watch it here.
"The Buffalo Bills Organization said we believe in prayer."
"Maybe it's not the right thing to do, but it's on my heart."
THEN – he brings everyone in with him to the experience.
"I'm going to do it out loud; I'm going to close my eyes and bow my head. I'm just going to pray for him."
And he does. On live TV. On a sports talk show.
Later in a tweet replying to the video post, he drops just one thing. A verse – not the actual verse but just chapter and verse. Matthew 18:20. What a wonderful expression of faith in action, witness, and discipleship – all at the same time.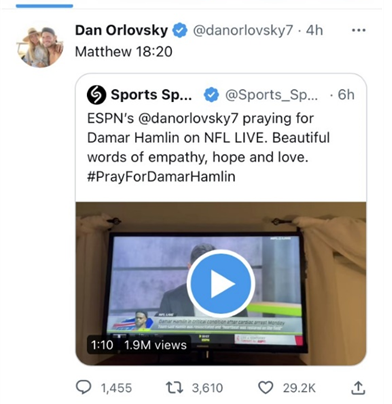 For where two or three gather in my name, there am I with them.
I was challenged. I prayed for Damar. Still am. There is so much sentiment behind his recovery, which is incredible. Even Niagara Falls was turned blue in his name.
It got me thinking. That's a lot of prayers, and a nation, a family, a company, a team that all pray together unify in something bigger than themselves. Prayer is powerful.
Many people I know need prayer, hugs, and shoutouts, to be heard, someone to come alongside them, a community to wrap around them, and someone to care.
The burdens are different: the passing of a loved one, terminal illness, divorce, job, family, life, love...you know the deal. We're all carrying something.
Prayer has been taken out of our day-to-day life and compartmentalized to places of worship and our homes (sometimes – even that can be awkward if that's not a daily thing). It feels weird to close your eyes, bow your head, and pray out loud in public. The restaurant, your office, the bar (I've caught a fish or two with a beer and bourbon!).
The Lord is calling us to more prayer. Prayer with others. Prayer for others. Pray out loud. Freestyle. Say a classic like the Our Father. Whatever it is. He's asking for our words of worship, praise, needs, and groans so that we can live with the hope and freedom that our faith promises.
Pray right now!
If you need some inspiration, here is a great framework to get rolling:
-> Gratitude: Lord, I am Thankful...
-> Awareness: I'm not always the best version of myself...
-> Significant Moments: God, what are you saying to me through this experience?
-> Peace: In all things, but especially ____, Please fill me with a deep peace.
-> Freedom: How is God inviting you to be the best version of yourself?
-> Others: Lift up to God anyone you feel called to pray for.

Dan Cooper co-founded ej4, a video-based online training company, in 2003, and was its CEO until selling in 2012. During his time with ej4, he grew the company from a startup to a nationally-recognized firm, serving clients including Pepsi-Cola, Dr. Pepper Snapple, Honeywell, Monsanto and Syngenta. Channel partners included SAP and Oracle. As of the 2012, ej4 was serving 1,000+ customers, delivering millions of program views, was highly profitable and debt-free. Today, he is the CEO of Acumen, a mastermind community platform built for CEOs and Owners of strong and growing companies. He and his wife, Ali, have three children and attend Cure of Ars church in Leawood, KS. Dan enjoys running, all things soccer — coaching, playing and watching —and burning all types of meat on the backyard barbecue grill.