How can a business leader in any sector ensure they add value to the world around them? By embracing the servant model.
Andy Davey, COO of LBA Services in Mission, Kansas, is passionate about this idea above all else.
"My faith is significant to me, and it all comes down to being a servant to whoever you've been entrusted with serving… The world will go on turning without me, so my choice in any situation is to be an 'add' – or not."
Outside of his innovative work with LBA Services, which provides plumbing, heating, and cooling services, Andy is also a certified executive coach, busy sharing his love of servant leadership and supporting businesses in operationalizing the processes necessary for realizing their vision. LBA Services, too, brings that same heart perspective of a servant to customers, providing resounding solutions by considering and addressing the whole picture to clarify both the issue and the necessary response.
Nothing is more important to Andy than people. "I love seeing others embrace the servant model," he says, "but more generally, I just really love seeing them accomplish their goals and experience 'aha' moments. That's why I'm on this planet!"
Andy takes great pride in being a part of an organization that puts people first and operates with high levels of integrity. "LBA Services is a company that cares about their people and is a place where actions and values align," he says. Finding Acumen – a community of other leaders striving for integrity and prioritizing people above all else – has been a huge blessing for Andy. The opportunity to analyze individual situations as a team, in particular, has been invaluable, and he has changed several business practices in response to those conversations. "I honestly didn't expect that when I joined," he shares. "I've learned so much." The chance to engage with and learn from people from all different industries, too, has been a hidden gem.
Andrew has a bachelor's in Human Resources and Business Management, holds 11 US patents in technology and business processes, and is a brand-new grandpa!
What exciting new developments are happening at LBA Services these days?
Andy shares that the company has doubled its top-line revenue this year, a massive accomplishment for the team. They've also engaged in a healthy utilization of AI tech for making important decisions as they continue a rebranding process that began a year or two ago.
"Heating, air, plumbing, and sewer-type work is what we do," Andy says. "But really, it's all about our service model." From top to bottom, the team partners with their clients throughout every process, and they use real-time tools like Slack to create a cohesive, closely-knit team. Like Andy, the company is all about getting people closer together, not pushing them farther apart.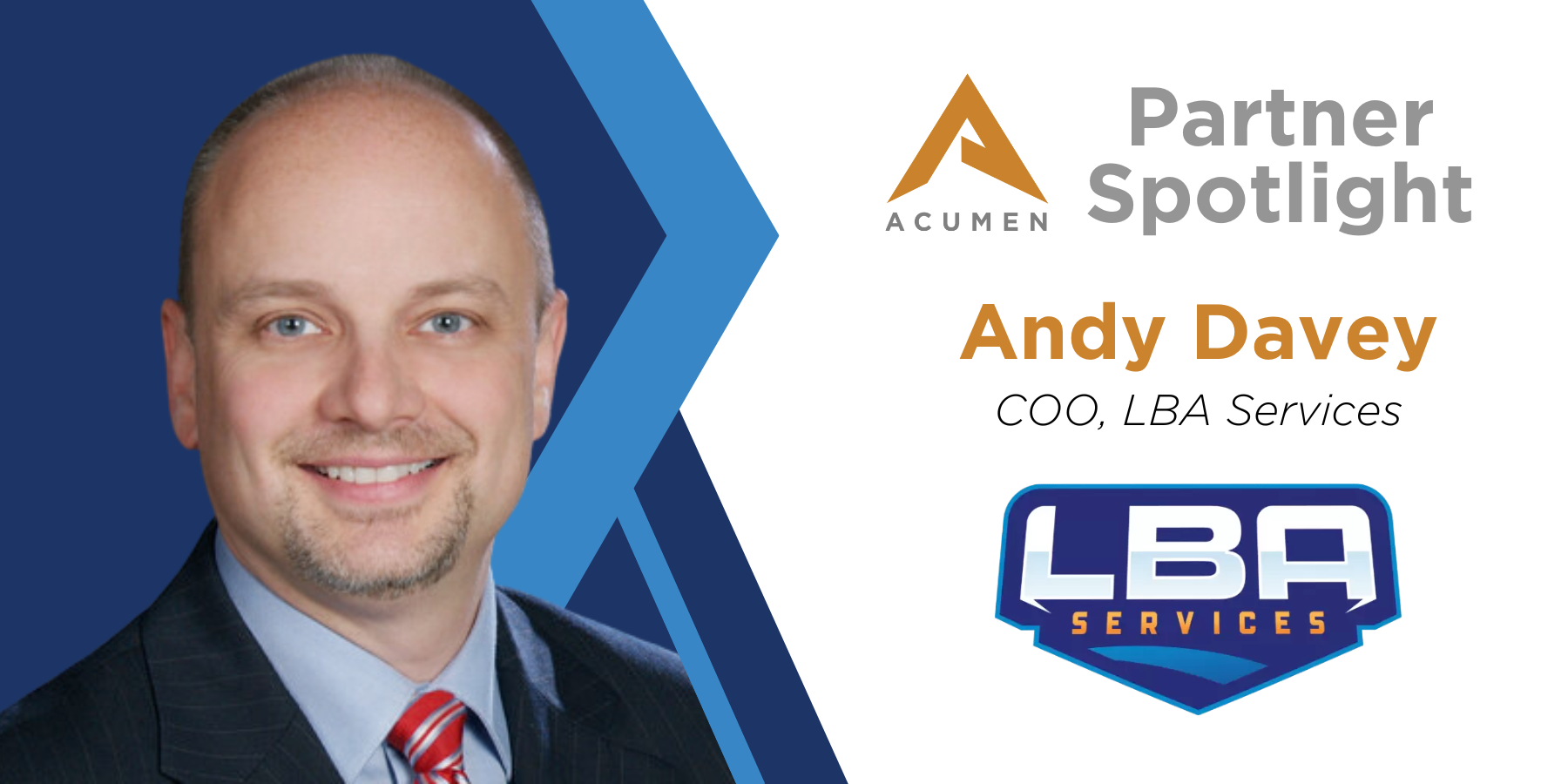 Hallie Knox graduated from Seattle Pacific University with a Bachelors in English Literature, and quickly followed her passion for words and story into a career in content writing. She's loved working on everything from blog posts to marketing emails to internal reports for clients in consulting, education, tech, and beyond. Hallie has been involved in various writing projects for Acumen since April 2022, and is thrilled to officially join the team as our Content Writer! Aside from her writing and editing work, Hallie spent a few years as a literacy and special education teacher, and continues to serve part-time as an educator for a fully outdoor forest school on the side. A "missionary kid" who grew up moving all over Europe, Asia, and the Balkans, she is now settled in Boise, Idaho, where she reads avidly, cooks experimentally, attends St. Seraphim of Sarov Orthodox Church, and spends time with her twin daughters, husband, and their two big goofy dogs.