For Bradley Mounts, Owner and Innovator at TORQ Distribution, his career's progression into higher and higher leadership roles felt pretty natural – until he hit the ownership rung.
"I've always been a natural leader," he acknowledges, "so moving up into management positions was easy. But shifting from sales manager to owner? That was big. The mental transition took a long time, and it was probably only a few years ago, when I joined Acumen and after several years in my leadership and ownership role, that I finally realized I could let other people do the work of selling products for my business. That realization allowed me, at last, to focus on and dedicate my time to the big picture leadership items, like core values and company culture."
Today, Bradley spends most of his time on the people development side of his business, working closely with both the clients and the employees at TORQ Distribution. The company supplies a wide variety of products and services to automotive service centers – and business is booming! Alongside his longtime friend and business partner, Don Suftko, Bradley has been working to diversify the company's offerings over the past couple of years, distributing everything from electric car supplies to hand soaps for the service center bathrooms on top of the usual products like oil additives.
What's the story?
"I fell into this business," Bradley says. "I was moving between sales jobs after college and began my career at JCPenney when someone from the auto industry contacted me with a sales rep opportunity. I took it and was quickly promoted to sales manager, and I held that position for about eight years. The business owners ultimately weren't seeing eye to eye, and one of them wanted out – so my college buddy Don and I were in the right place at the right time to purchase the company in 2011."
Bradley's varied experiences in sales, management, and leadership have all given him a strong gut intuition for how to treat and empower people. Throughout his career, he has been driven by one passion:
To help others realize the best version of themselves and achieve their goals.
Whether interacting with a teammate or a client, Bradley always seeks opportunities to support them in reaching their full personal and professional potential.
Bradley was born and raised in St. Louis and loves spending time with his family, which includes three teenagers whose many events keep them all busy and entertained! The Mounts family enjoys traveling and getting outdoors, and Bradley loves road and mountain cycling and entertaining family and friends around the grill.
Where does Acumen come in?
Bradley joined Acumen back in 2021, after he got chatting with the EOS implementer TORQ had hired – who happened to be an Acumen partner himself. That seemingly random connection and its effects have held great weight for Bradley ever since.
"Acumen's peer-to-peer councils are such a great place to bring your professional challenges," he says, "since so often you don't really have anywhere else to take them for discussion and problem-solving. The quarterly Advance workshops have been excellent too – I'm always able to apply some of the takeaways in my own business right away."
Bradley's path as a people-focused innovator and business owner has been supported along the way by his hard work, openness to learning, and motivating desire to help everyone around him achieve their goals. Subscribe to our blog today so you don't miss out on more inspiring stories from our partners!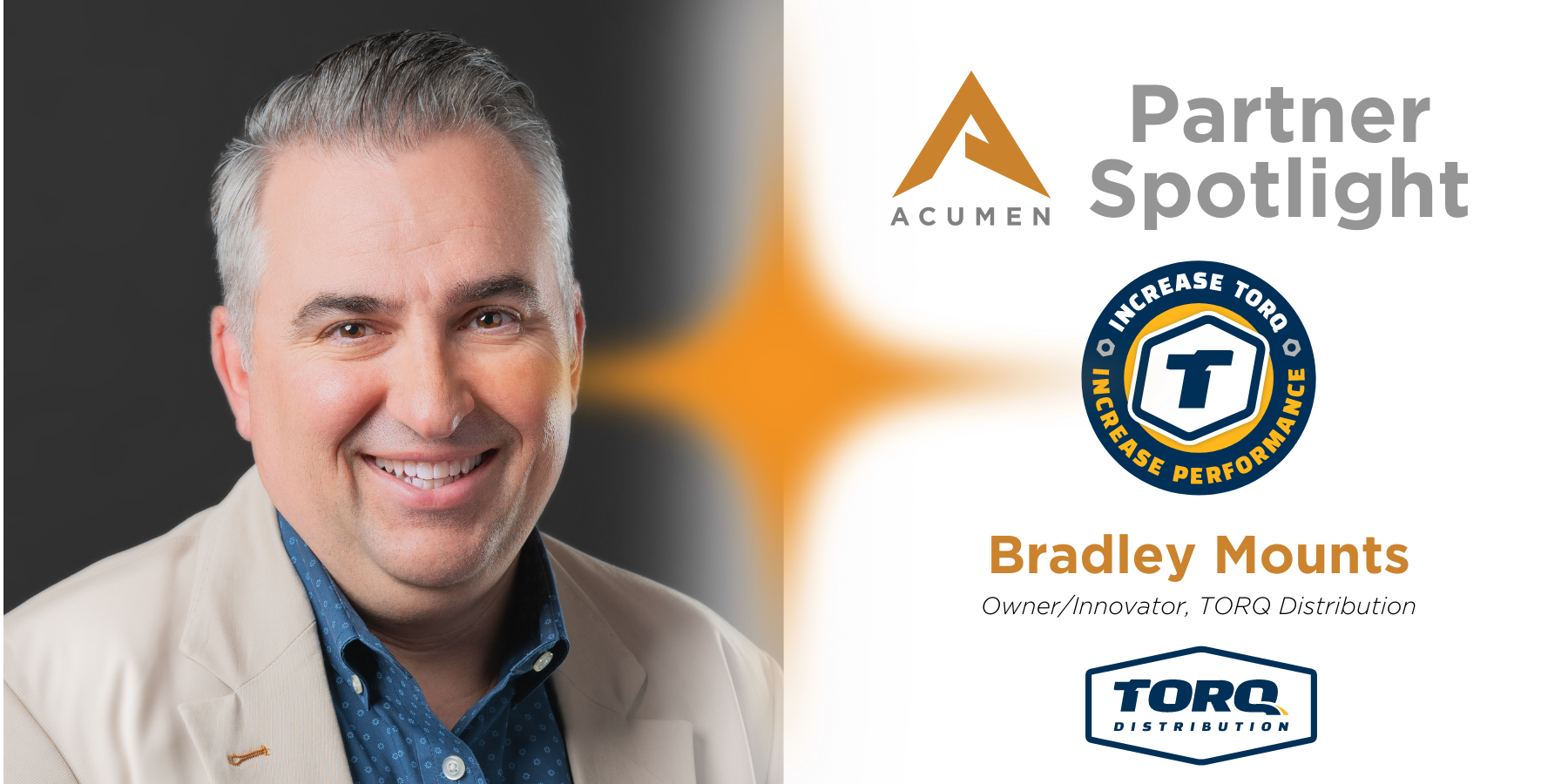 Hallie Knox graduated from Seattle Pacific University with a Bachelors in English Literature, and quickly followed her passion for words and story into a career in content writing. She's loved working on everything from blog posts to marketing emails to internal reports for clients in consulting, education, tech, and beyond. Hallie has been involved in various writing projects for Acumen since April 2022, and is thrilled to officially join the team as our Content Writer! Aside from her writing and editing work, Hallie spent a few years as a literacy and special education teacher, and continues to serve part-time as an educator for a fully outdoor forest school on the side. A "missionary kid" who grew up moving all over Europe, Asia, and the Balkans, she is now settled in Boise, Idaho, where she reads avidly, cooks experimentally, attends St. Seraphim of Sarov Orthodox Church, and spends time with her twin daughters, husband, and their two big goofy dogs.