Branden Connolly was putting his graduate degree in sports administration to good use at the Kansas City Sports Commission when a lucky break arrived in the form of a phone call – though, at the time, he had no way of predicting that his life was about to be pushed in a completely unexpected direction. The voice on the other end of the line belonged to George Brett of the Kansas City Royals, an old friend of Branden's from his time as a ball boy for the team. George had a slightly out-of-the-blue request: he was being inducted into the Baseball Hall of Fame and wanted to use his moment in the spotlight to raise money and awareness for ALS. To do that, he needed someone to help him produce several truly impactful and memorable events.
Branden's experience in sports administration may have seemed a far cry from the event management field, but think about everything that happens pregame when you have tickets to the Chiefs! "It wasn't like I was a dentist coming into the events management field," he remembers. "There was plenty of overlap there." That game-day operations experience gave Branden precisely what he needed to organize and pull off the whirlwind project for his friend. As the campaign wound down, Branden moved his attention to an idea he initially struggled to take seriously: becoming an entrepreneur and being part of a start-up events company. "I just laughed," he recalls. "I thought it wouldn't last more than a couple of weeks." Branden's decades-long career in events management had begun.
Today, after 24 years as one of the Founding Partners of Evenergy Events, Branden remains passionate about creating moments that matter for his clients and their guests. Whether an event is hosted by a corporation for its employees, for consumer brands or product launches, catered towards non-profit supporters, or focused on fundraising and community impact, he believes those experiences can and should be a blessing for everyone involved. Working alongside his business partner as Evenergy's lead project manager for events from a client service perspective and as the driver of business development, Branden has been a part of executing and managing hundreds of events in Kansas City and throughout the country – and it all started with a phone call from George Brett in 1998.
When the going gets tough
Over his 24 years leading the organization, Branden has navigated all sorts of ups and downs – both in business and in life. He would be the first to say it: if you aren't right personally, your business and work output suffers. And nothing supports personal well-being quite like a strong, supportive community.
For Branden, this truth really hit home when he became involved with the Acumen team. He found the community when he was in the thick of a divorce, during an inarguably messy time in his life. As it turned out, nothing could have been more timely. The relationships and community he built at the start significantly impacted him then, and they continue to do so today. His participation in the Acumen community accelerated his personal recovery and enriched his life in ways he could never have expected.
"It would have been a longer journey and bumpier path without the support of the Acumen community and the amazing individuals I have been blessed to meet along the way."
Navigating change
Beyond that, Branden asserts that his business could not have achieved what it has without the support of the Acumen community. Being surrounded by other business leaders facing similar personal and professional challenges has been essential to Evenergy's growth. He points, in particular, to the financial advice Evenergy received during council meetings and from Growth Catalyst Scott Stanger as integral to his company's growth and success.
Unsurprisingly, the pandemic proved to be a particularly trying time for an events management company. "We were 85% off," he shares, "But we survived, and now we're growing like crazy." They continue to add to their amazing client list, which includes The University of Kansas Health Systems, The Plaza Lighting and Plaza Art Fair, and Associated Wholesale Grocers. By scaling back to just himself and his partner at the time, they were able to make it through the height of the pandemic by focusing on virtual events.
It wasn't the first time Evenergy had made a drastic pivot. The company started out servicing small to medium non-profits, managing their fundraisers and PR, before moving into large festival management around 2005. They flipped the script again in 2011 by adding corporate events. Today, Branden finds himself more in the weeds than ever as he manages a website revamp and delves into social media strategy. "There's a lot going on," he says. "I'm really focused, more energized than ever, and locked in to share our passion for events with all of our clients. Our team is entrusted with some of Kansas City's most notable events. We don't take this responsibility lightly."
Throughout all the changes, Branden has kept his personal relationships and wellness at the forefront, remembering the value of an impactful community during his roughest points. He is a loving dad to his three daughters and enjoys unwinding by playing golf and dabbling in collecting sports memorabilia. He has also stayed closely involved with old friends (including, to this day, George Brett!) and with his group of Acumen peers, who continue to sharpen, challenge, and inspire him.
"My involvement with Acumen has been a game-changer."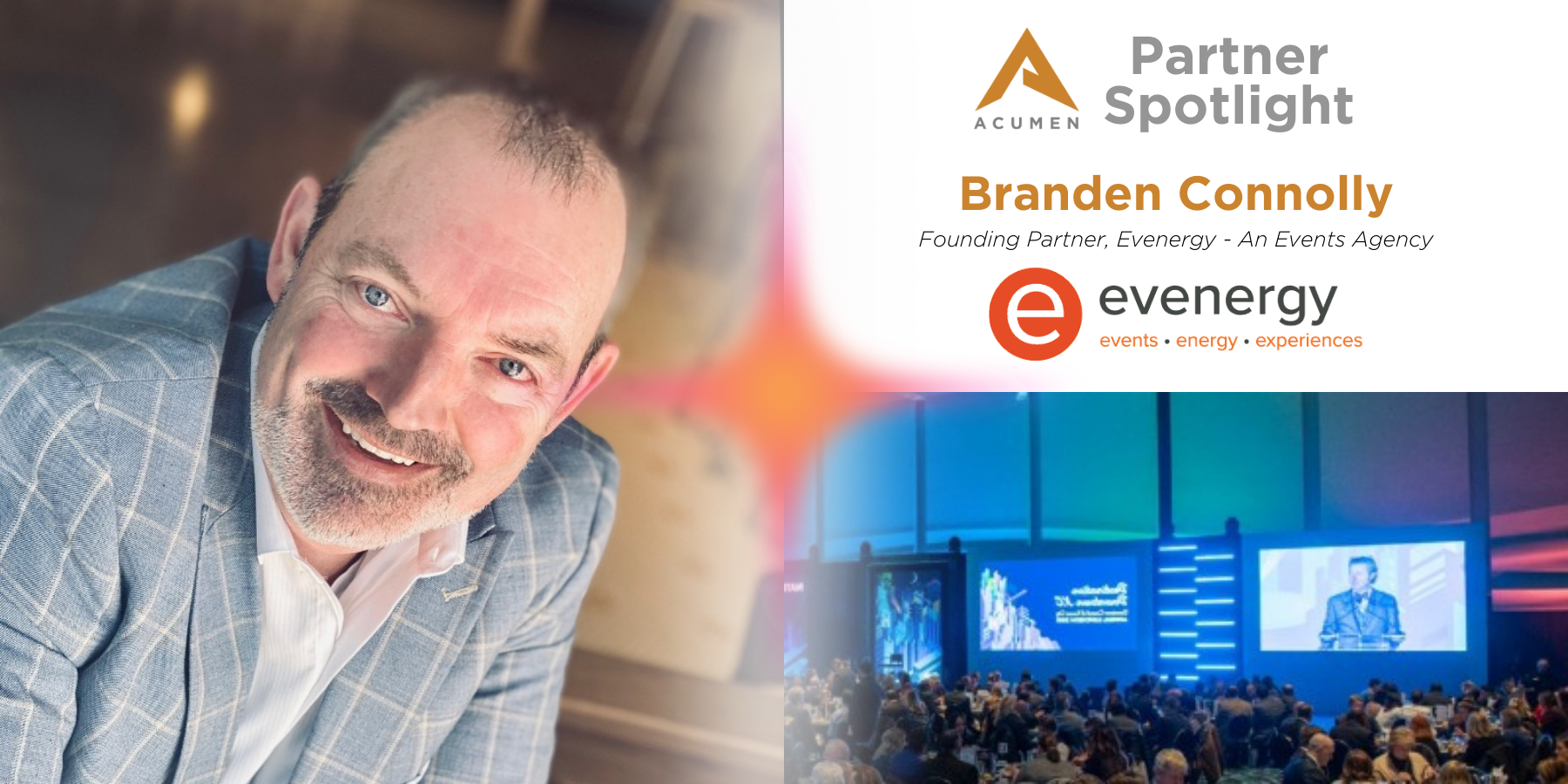 Hallie Knox graduated from Seattle Pacific University with a Bachelors in English Literature, and quickly followed her passion for words and story into a career in content writing. She's loved working on everything from blog posts to marketing emails to internal reports for clients in consulting, education, tech, and beyond. Hallie has been involved in various writing projects for Acumen since April 2022, and is thrilled to officially join the team as our Content Writer! Aside from her writing and editing work, Hallie spent a few years as a literacy and special education teacher, and continues to serve part-time as an educator for a fully outdoor forest school on the side. A "missionary kid" who grew up moving all over Europe, Asia, and the Balkans, she is now settled in Boise, Idaho, where she reads avidly, cooks experimentally, attends St. Seraphim of Sarov Orthodox Church, and spends time with her twin daughters, husband, and their two big goofy dogs.