Our next Partner Spotlight is Rob Poettgen, President of Bordner Home Improvement. Rob is an Acumen partner in our CEO team, Ignite led by Growth Catalyst, Scott Stanger.
About Bordner Home Improvement
With 35 years and more than 80,000 satisfied customers in the Kansas City area, Bordner Home Improvement is a second-generation home improvement family business. Bordner provides industry-leading installations such as roofing, siding, windows, stone, and bathrooms. The Missouri-founded Corporation has received over 97% recommendation rating from its customers. Bordner has consistently been awarded the Angie's List Super Service Award and an A+ rating from the Better Business Bureau. Their representation of trusted craftsmanship is proven with over 50 years of combined family experience.
Rob's Background
Rob started his career with Ernest and Julio Gallo Winery in Oklahoma and Texas. His father-in-law recruited Rob to work for him at Bordner Roofing Company in 2000. At that time, Bordner did new construction roof installations for builders. Over the next 20 years, Rob worked to develop Bordner's replacement business specializing in roofs, windows, siding, stucco, and bathroom remodels serving homeowners. Rob had the opportunity to purchase the business in 2019, along with his partner, and another Acumen partner, Sam Fleenor. Today, Rob sits in the Visionary seat with the responsibility of culture- development, and growth.
Rob Joins Acumen
Rob became an Acumen partner in 2018 and is on the team Ignite, led by Growth Catalyst, Scott Stanger. Rob enjoys having a network of like-minded business owners that have been instrumental in his growth as an owner. He says:
"My biggest takeaway from Acumen is the ability to ask detailed questions about business operations and learn from others' honest feedback that seeks to honor biblical values. Having a community of like-minded leaders willing to engage in problem-solving challenges me to grow so I can also be a benefit to my council land the community at large"
He relates to Acumen's mission in the way he treats his people and customers. He identifies most with the idea that we are all like-minded with the same mindset in the Acumen community. Rob believes that business leadership and ownership is the most challenging area to live out your faith when money is at stake. He says, "Faith speaks the loudest when decisions are made to see how it aligns with the values we say are important."
More About Rob
Rob enjoys hiking, running, and mountain biking. The outdoors brings him joy and is a great release from the daily demands of business ownership. He has been married to his best friend, Tatum for 25 years and they have three children. His family is his hiking and biking partners and his best times are spent with them.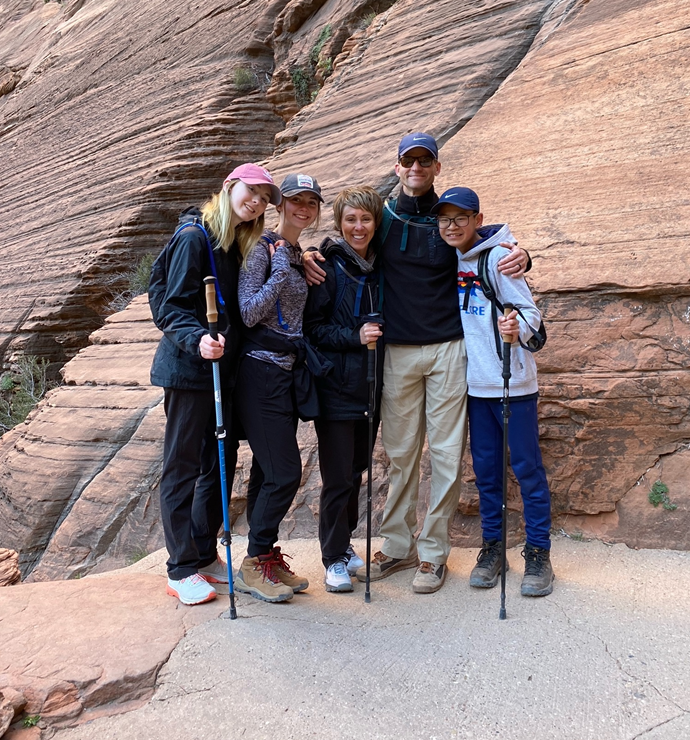 Thank you, Rob, for being part of the Acumen community. We look forward to more sharpening and kingdom-building with you!

Elizabeth Shandy graduated from Washburn University with a Bachelors in Public Relations. In addition, she received her Masters in Leadership from Grantham University. Her deep passion for leadership came from her role as a peer advisor for nontraditional and military students while studying for her Masters. Elizabeth is the Growth Marketing Specialist enhancing our brand awareness, content management and supporting regional and team marketing. She has several years of marketing experience as well as skillsets in recruiting and advising. Her favorite thing about being part of our marketing team is getting to make a creative impact every day. She has several certificates in digital marketing including social media, graphic design, sales support, and content management. Elizabeth and her husband, Nick, have one daughter and attend Prince of Peace. In her spare time, she enjoys exploring wineries, crafting, playing keyboard, and spending time with her friends and family.