I had some thoughts about intentionality - in your business and life. Will you take this reflection journey with me?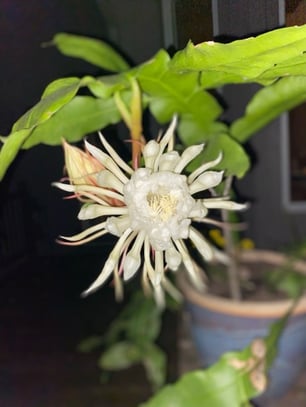 There's this flower called Epiphyllum Oxypetalum or, more easily remembered - the queen of the night (use your deep voice to say it).
They call it that because she rarely blooms, and it's only at night when it does. Then her flowers will wilt before dawn. Here's a rare pic of it blooming at night.
I actually don't know if it's rare. I might have made that up, but it was for me. I saw this flower at a buddy's house, and he told me the story of its night bloom. Then low and behold, after 10 PM …Tada! Nature!
If we weren't intentional about watching for it, we would have missed it, and the only evidence of it happening would be sad, wilted flowers on the ground.
Stay with me here.
The key to this is the line above. I said, "if we weren't intentional, we would have missed it."
Stop where you are.
Take a deep breath in and blow it out real slow.
Do it again.
You should feel a change in your body. Now, think about all the parts of your life that have nothing to do with your business or money. Go through your life's people, places, connections, and circles.
What, if you don't act with intentionality, will you only notice once the petals are on the ground wilting?
When you finally pull your head up from your business, what will make you think – how did I not see that?
What, in your life, can change overnight that you will have missed?
How did that reflection go? Does anything come to mind? Here are some of mine:
My son is a junior in high school; if I don't watch it, I'll wake up, and he'll be gone. So what will I do intentionally to connect with him over the next two years (Thanks for this one, Jaws)?
My wife and I finally put a weekly date night on the calendar – and we've skipped every week so far. So what are we missing relationally by not being intentional about our marriage (This week we're doing it, Ali!).
My parents live in Saint Louis, and I'm awful about inviting them over or going there. It's not that I don't want to – I'm just not being intentional (Sorry, Mom, I didn't mean to ask you in a blog).
Strange how they all have to do with people, isn't it?
What are yours? Pick one. Do it this week.
Catch the queen of the night before her petals fall.
It's worth staying up for.

Dan Cooper co-founded ej4, a video-based online training company, in 2003, and was its CEO until selling in 2012. During his time with ej4, he grew the company from a startup to a nationally-recognized firm, serving clients including Pepsi-Cola, Dr. Pepper Snapple, Honeywell, Monsanto and Syngenta. Channel partners included SAP and Oracle. As of the 2012, ej4 was serving 1,000+ customers, delivering millions of program views, was highly profitable and debt-free. Today, he is the CEO of Acumen, a mastermind community platform built for CEOs and Owners of strong and growing companies. He and his wife, Ali, have three children and attend Cure of Ars church in Leawood, KS. Dan enjoys running, all things soccer — coaching, playing and watching —and burning all types of meat on the backyard barbecue grill.