I hardly turn on the TV anymore.
Bad news everywhere. Ukraine. The Border—is it closed or open? Oil prices are through the roof, and Inflation is at record highs. Interest rates are up, and the Nasdaq is down. The Supply Chain is broken. Our Workers have gone AWOL!
But many businesses in the Acumen community are seeing record demand. Orders are at unprecedented levels, and we are selling all the products we can produce.
What's it all mean?
That's why I was so looking forward to attending the Acumen Advance Leadership Conference featuring ITR Economics, a leading firm that analyzes and predicts the world's economic future.
Lauren Saidel-Baker presented to our group three years ago, back when life was "normal", before the Great Pandemic. At that time, they predicted smooth sailing for our economy through our "roaring 20's" followed by a full-on Depression in 2030.
I was excited, and a little worried, to see how their predictions have changed.
Tuesday of last week, 200 business leaders sat on the edges of their seats waiting for the bad news. Is a Recession imminent? Has the de-globalization of the economy, the war in Ukraine, and inflation going to break our economy and throw us into a tailspin?
The bad news never came.
Saidel-Baker explained, rather calmly, that, while there are a lot of troubling things going on in the world, the "news flow" and "sentiment indicators" do not predict the economy. Why I wondered, isn't the cutoff of Russian Oil or inflation a big deal?
There was a gasp in the crowd when we viewed the pie chart representing the GDP of the world's economies. The US has the largest slice at almost 24% and no surprise China comes in at 18% just behind. Russia's GDP is a dismal 1.7%, almost a rounding error!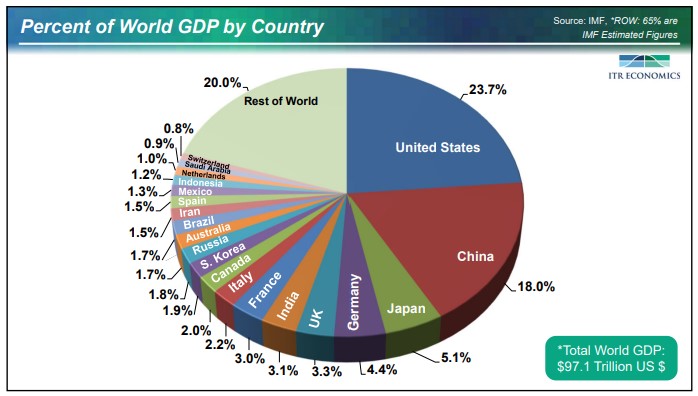 Image Source: ITR Economics, 2022
Lauren went on to show projections of oil prices peaking soon, interest rates capping out just a percent or two higher than now, inflation turning to dis-inflation (not deflation!) this fall, and our economy making a "soft landing" in the coming year. Housing starts will remain strong because people need houses, banks are still willing to lend, and rates are not "that high".
She continued by sharing a tremendous amount of data about the economy, discussing the good and bad—there are 1.8 job openings for every unemployed person in the US, where the population is shrinking and where it's growing, and much, much more.
The bottom line. Things are challenging. We need to be aware of these market dynamics and how each affects our specific business. Strategic planning, taking care of your people and your culture, and solid execution are more important now than ever. But we are OK for now. No recession imminent.
The long view? Not so rosy. As she did when she presented to us back in 2019, Seidel-Baker and ITR predict a fairly strong 20's a decade, with a mild recession in the 25/26 timeframe, followed by a massive Depression in 2030 that could last for ten years, complete with 25% unemployment. Five environmental factors are driving this prediction—Demographics, Healthcare Costs, Entitlements, Inflation, and our ever-increasing National Debt. She calls this an Economic Forest Fire, which will burn down our economy, clean out the deadwood and regrow with strong new timber.
The bottom line. I'm going to watch less TV. Worry less, plan more.
In another speech, 2000 years ago, a bit more important and memorable than ITR's Jesus said: "do not worry about tomorrow, for tomorrow will worry about itself. Each day has enough trouble of its own." Well said.
Executive Coach & Growth Catalyst, Acumen

August (Augie) Grasis is a serial technology entrepreneur who has founded and built four companies throughout his 35+ year professional career. He has a passion for businesses and the entrepreneurs who lead them. Augie founded and led Handmark, a mobile industry pioneer which helped establish the mobile app and mobile advertising businesses. During its 13 year history, Handmark served millions of customers, raised venture capital from both coasts, grew to 100+ employees and $35M in revenues before its sale to Sprint in 2013. Augie was awarded E&Y Entrepreneur of the Year (Midwest, Technology) in 2009 and Handmark was named to Kansas City's Champions of Business three successive years. Prior to Handmark, Augie founded Foresight Resources, a Computer Aided Design (CAD) software company in the early days of the Personal Computer. Foresight developed the first CAD for Windows and invented the DIY Home Design software market before being acquired by Autodesk in 1997. Most recently, Augie teamed up with his son and experienced transportation executives to co-found FreightorGator, a freight Industry tech startup with new approach to LTL freight booking. He was responsible for launching the company and building its online service before turning it over to partners in 2017. Augie currently serves on the Board of Directors of Milbank, a family owned, industry leading manufacturer of electrical components and mentors business students at UMC & UMKC. Augie lives at Weatherby Lake with his bride of 39 years. They have three grown children and four grandchildren (so far) and attend the Vineyard KC church. Downtime is spent restoring, collecting and racing vintage cars, leading an open water swim group, sailing at Weatherby Lake and skiing in Colorado with his family. He serves as fundraising chair for the Jeremy Katzenberger Memorial Triathlon at Weatherby Lake which supports the Sua Sponte Foundation aiding families of injured and fallen soldiers. The event has raised over $100,000 in its six year history.